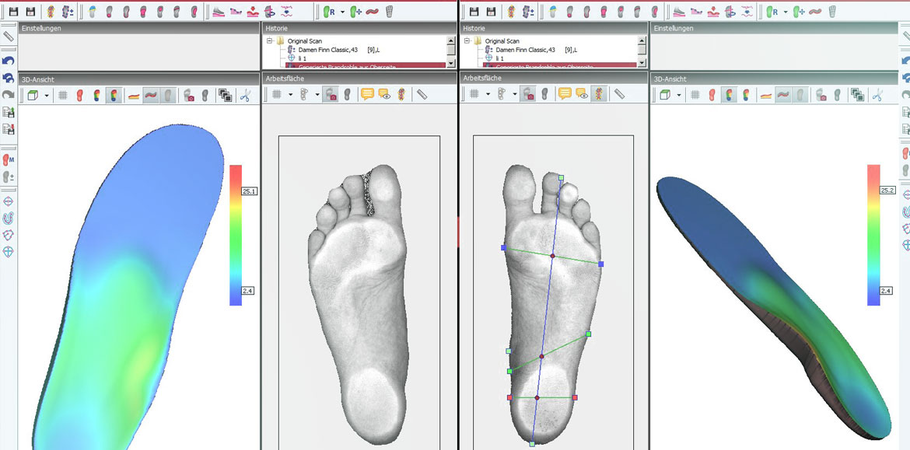 Milled orthopedic insoles - Your advantages with paromed
From foot scan to milled insole
With paromed products you only need a few work steps for the production of milled insoles:
Three-dimensional footprint
The first step is the creation of an individual three-dimensional footprint using one of our 3D foot scanners, which exactly replicate the patient's foot.

Define corrections of the malpositions
All elements for the correction of the individual malposition can be adapted precisely to the foot with the functions of our paro360 modelling software, as they have to be scaled individually (in length/width/height independently of each other).

With the paro360 software, the underside of the insole is also matched exactly to the shoe, either by using existing underside libraries or individually.

Milling the insoles
We offer a wide range of milling materials for milling the insoles, which can also be processed to customer specifications and specially adapted to patient requirements.

Using our milling technology, all known insole therapies can be implemented, such as sensorimotor, proprioceptive or spiral dynamic insoles. Additionally, you can also produce positive models using the milling machines and produce insoles in carbon material, for example, using the well-known vacuum deep-drawing process.

Finished, individual shoe insoles
Due to the possibilities of varied individual adaptations in the manufacture of orthopaedic insoles, a positive influence on the patient's foot health is exerted.

Special advantages of milled insoles
The individually milled insoles offer decisive advantages for patients as well as for orthopaedic companies themselves:
Increase of wearing comfort
Through the digital and precise visualization of the foot an individual footbed is created. During the rolling movement, the body weight is distributed over a larger contact surface and the specific surface pressure decreases. During the rolling movement, the body weight is distributed over a larger contact area and the specific surface pressure is reduced (pspec=Fw/AFoot)*. The patient evaluates this as an increase in wearing comfort.

Customised to individual needs
From diabetics to top athletes, the necessary insoles are adapted to individual needs and customised insoles are created. These unique insoles achieve maximum economic efficiency in production and enable characteristics that would not be possible with classic manual manufacturing methods.

Reproucibility
A major added value is the simple reproducibility of successful treatments at the touch of a button. As soon as the insole data have been digitally stored, they can be quickly reproduced at any time - of course also with different undersides for comfort shoes, sports shoes and many more. The fast and easy reproducibility of the insoles also reduces manufacturing costs and administrative effort.
Tip: Storage of deposits
Prefabricated insole systems must always be in stock in various variants and sizes, therefore they require a lot of storage space. Through our well-planned and proven logistics process - we deliver only what you immediately need. According to the market research company "Technavio" the market volume for orthopaedic insoles will grow in the years 2012 to 2018 to approx. 900 million euros - so it is worth thinking about cost savings through warehousing.
You can learn more about paromed's insole milling machines here: paroContour
* pspec= specific surface pressure, Fw= weight force, AFoot= Contact surface foot / floor
back