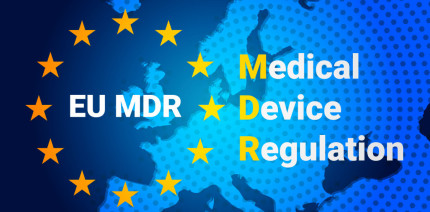 Medical Device Regulation 2021
As the new MDR will now come into force on May 26th, 2021, we want to seize this opportunity to inform you about the restructuring of our QM measures regarding our EVA materials.
Our renewed efforts could be described as "combining the necessary with the practical". By expanding our QM measures in a targeted manner, we fulfill the requirements of the MDR and, at the same time, gain new insights into how the profile of material properties could be optimized further in the future.
Making use of internal and external laboratory capacities, we will in the future not only test compliance with statutory requirements regarding prohibited additives, or the maximum permissible concentrations of certain additives and the cytotoxic properties of the compounds, but also the consistency of the composition of the processed materials and the resulting mechanical properties.
A dynamic material test is intended to supplement the limited informative value of a static Shore A value test, in order to allow us to provide more detailed information that can be used for the best individual design of orthopedic insoles in the future.
Medical Device Regulation
ParoPrint
Our new paroPrint is a quick and easy way to comply the medical devices label requirements for insoles. Flexible, intelligent and user-friendly, the hand-held inkjet printer lables your insoles and is controlled directly from paro360.
Details and a video can be found here:
paroPrint