Strong reasons for a service contract
A Service Contract provides only benefits
Signing a service contract with paromed gives you the greatest possible guarantee that paromed products are always functional and, above all, safe. In addition, you can benefit from the following advantages with a service contract:
Increased lifetime through maintenance
Most of all, regular maintenance of the installed systems helps to keep faults to a minimum and ensures smooth running. As a result, high repair costs can often be avoided. In addition, there are many safety functions that are not needed or not often used in daily routines. These functions are also checked by our service technicians. Yearly maintenance and inspection of the systems significantly increases their lifetime, especially of the milling machine, which saves costs and significantly reduces machine unit costs per pair of insoles.

Well insured
The operator is responsible for the safety and maintenance of the system. If an accident with the machine occurs, you may be liable if the cause is a lack of system maintenance. With a service contract you are safe and secure at all times and can prove this at the responsible insurance companies.

Calculable costs
The costs for a service contract can be calculated monthly and in the case of a failure your requests will be treated with the highest priority by our service hotline. This also reduces the stress factor for all the people involved, because everything can be planned and your systems are up and running in the shortest possible time without any loss of profit.

Rapid assistance
Our in-house service technicians are well trained and operate all over the world. In case of problems with our machines or software, our staff can be contacted either in person, by e-mail or via the telephone hotline in Neubeuern. If necessary, they can also be on site quickly.

Free spare parts or rental equipment
Even machines that are in daily use and have to work at all times need a special service at some point, they have to be repaired or individual parts have to be replaced.

Training of employees
We know how the importance of well-trained employees. Together with our qualified instructors, the full potential of machines and people is exploited in order to achieve the maximum.
Customized to customer needs
70% of our national and international customers have one of these three service contracts:
Basic contract
Comfort Contract
All-inclusive contract
The contract period is 12 months. Monthly fees are charged for the Basic and Comfort contracts. The all-inclusive contract is free of charge with a minimum purchase of blanks, with the obligation to purchase all blanks exclusively from paromed. In the following graphic you will find an overview of our service contracts with the respective services.
Overview of service contracts from paromed: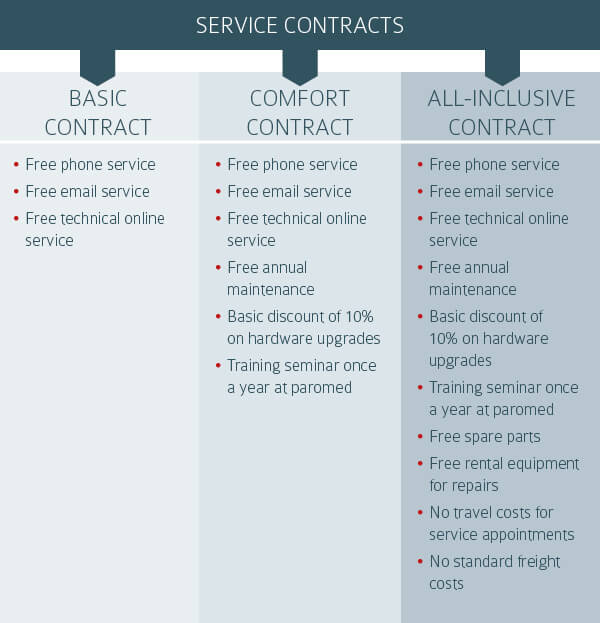 back