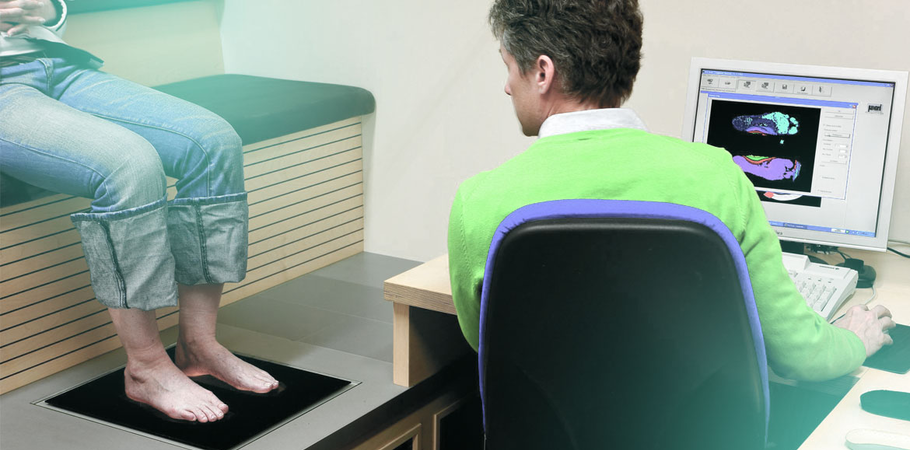 Lack of specialists in orthopaedic technology
Demographic change as a cause
On one hand, the shortage of skilled personnel is due to demographic change, but on the other hand academization increases constantly. More and more young people seek university education and do not choose an apprenticeship. Today almost 50% of the graduates decide to study at a university or a college. Ten years ago the numbers where still below 40% and in 1980 it was just under 20% - this trend is to continue in the coming years, as shown in the chart.
Specialists in orthopaedics
Finding well-trained specialists in orthopaedics is becoming increasingly difficult. Therefore, many companies want to train their personnel in their own companies and then keep them in their organisation.
Finding experienced specialists and qualified trainees, attracting them permanently and retaining them in the company will be the challenge for companies in orthopaedic technology and orthopaedic shoe technology in the coming years.
The following charts provide an overview of specialists who passed with a final apprenticeship examination and a master degree as orthopaedic technician and orthopaedic shoe technician. It is immediately noticeable that one could assume there would be enough qualified personnel on the basis of the graph, but the job description of an orthopaedic technician has been redesigned in 2013, therefore only the last 3 years are a yardstick here. In orthopaedic shoe technology there has been a decline in the number of masters.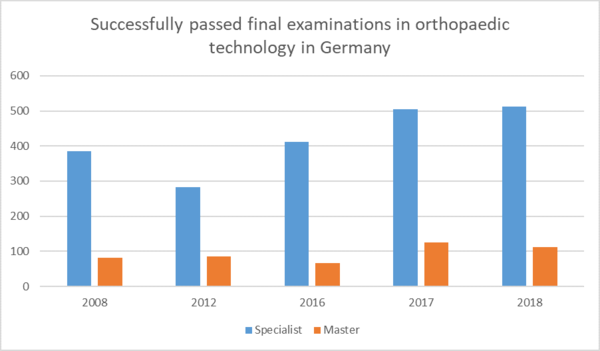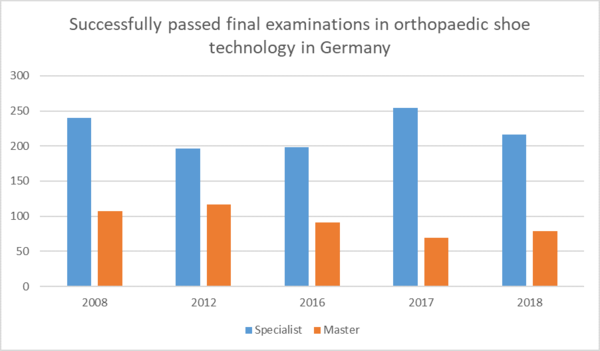 Collaboration with core suppliers as a solution
In order to achieve a high-quality supply of insoles even with fewer qualified personnel or employees from outside the industry, a close cooperation with the core supplier crucial. Because only with a scalable machine-based approach can insoles of the highest quality be produced, with minimum effort. The improved time management means that customers still receive very good and individual customer service. Together, the orthopaedic insole production can be optimized and thereby, time, personnel and costs can be saved.
With paromed you have a strong partner at your side. Together we can create the perfect mix for the CAD production as well as standard and individualisation of the product range to guarantee a high level of insole supplies in line with customer requirements. In addition, we work together to make work easier for your company with an increased profit.
Machine milling with paromed
Machine milling achieves one hundred percent reproducibility, which significantly reduces personnel, working times and costs. Even personnel from outside the industry can be integrated into the workflow at any time. At the same time the costs for the purchase of your own milling machine can be saved by using paromed as your external milling partner. You are perfectly equipped with one of our foot scanners and the paro360 software. The insole design will be transmitted electronically to us, under specification of desired blank material and quality. Our milling machines can also mill on both sides, therefore you can choice between insoles milled both sides and insoles milled on one side. If you wish, we can also grind the finished insole for you.
With us you have a competent and trustful partner at your side. Find out more about insole milling at paromed here: https://paromed.de/en/services/central-fabrication/insoles
back