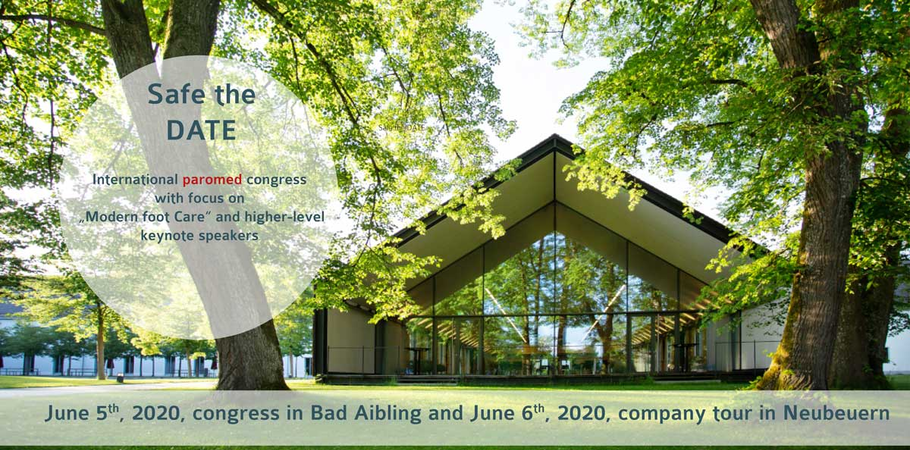 Invitation to the paromed congress and company tour
We are looking back on a 30-year company history.
As a reliable partner in orthopaedic and supply technology, we are proud to be represented with our products and services in more than 37 countries.
We want to celebrate this company anniversary
and therefore organize an international congress on
June 5th, 2020
at the B&O Hotel Bad Aibling
for companies in the
Orthopaedic shoe technology
&
Orthopaedic technology.
We are extremely happy that we could win numerous national and international speakers.
Erwin Markowsky will show us, "How frighteningly simple and fast your computer system can be hacked". Friedhelm Raskop is known as an excellent trainer and sales expert. Did you know how quickly and in principle simply you can positively motivate yourself and your environment? The Dutchman Rolf Schrama knows what he is talking about, when he tells us, how hurdles can be passed. As a member of the Paralympic Team NL 2016 he achieved more than he ever imagined. A moving Report, which also shows what orthopaedic aids can make possible.

IIn order to focus on specific topics in the best possible way and benefit from maximum expert knowledge, parallel workshops will be held. We are very pleased to have many experienced experts at the congress.
On our website (www.paromed.de) you will find everything about the congress. Short profiles of the speakers and experts, as well as everything about our company tour, which will take place on the following day at our company location in Neubeuern.
We are already looking forward to your participation!
back